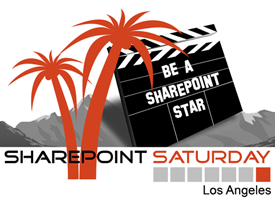 Are you ready to be a SharePoint STAR Los Angeles?
Join SharePoint architects, developers, and other professionals that work with Microsoft SharePoint for 'SharePoint Saturday', on Saturday, May 18, 2013 at Santa Monica College.
SharePoint Saturday is an educational, informative & lively event filled with sessions from respected SharePoint professionals & MVPs, covering a wide variety of SharePoint-orientated topics.
SharePoint Saturday is FREE, open to the public and is your local chance to immerse yourself in SharePoint! Meet accomplished technology leaders, network with your peers and increase your proficiency in SharePoint in a fun and free environment.
Event Details:
Breakfast, lunch and snacks will be served at the venue.
Wireless access will be provided so you can follow along with your mobile Twitter client.
Follow us now with hash tag #SPSLA
Get more information at SharePointSaturday.org/LA
Register today so your spot is saved!
Come down to Santa Monica, enjoy the beach and ocean breezes along with this wonderful campus and then join me for two new sessions on Self Service Business Intelligence in SharePoint 2013