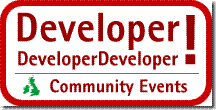 Developer Developer Day returns to Reading on Saturday 22nd November 2008, and the call for speakers is now open, giving plenty of time for anyone who would like to submit a session, to prepare an abstract and think about what they would like to speak about.
So if you have a session, double session or grok talk you're interesting in submitting please go to http://www.developerday.co.uk/ddd/agenda.asp and fill in the short form. Also as there is plenty of time before DDD7, if you would like to have some practice at delivering your session why don't you contact your local VBUG group or any of the other great Usergroups in the UK, I'm sure they'd love so have some new session for their groups to see.
Developer Day events and usergroups offer great ways for new speakers to gain experience and feedback with delivering technical presentations. If there is a topic you're passionate about why not start off with a 10 minute Grok Talk at DDD or your local usergroup and then build up your confidence and presentation from there, before you know it you'll be delivering full hour long sessions. Go on give it a go!!
I'm planning on submitting a couple of new sessions for DDD7 so I'm off to think about my abstracts now 🙂