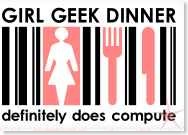 I've got a number of blog posts in the pipeline waiting to be finished but this one is more urgent the others, as the subject contains something which is happening tomorrow night in Manchester! The second Manchester Girl Geek Dinner will be held tomorrow night, 25th July 2008 at the University of Salford. Looks like some excellent talks lined up, especially Gemma's session on how to engage young people in Geekery – I managed to capture the imagination of a female work experience student for a couple of hours last week but how can we maintain it is my question, especially as I feel the curriculum for Key Stage 2 upwards is very poor in IT. For more details and to register please go to – http://www.manchestergirlgeekdinners.co.uk/email/registration.php and here are some details Gemma sent through:
When: 25th July 7pm
Where: Salford University, University House
Who can attend: Girl Geeks! A lady who has an interest, or is involved in the Science, Engineering and Technology industries. Blokes can come too, but you need an invite from a Geek Girl.
Cost: Around £15
What:
For those who haven't been before, it's dinner, wine, talks from inspirational women, networking and discussions afterwards.
Dress up as much as you like, for those of us who like to wear pretty dresses (I am!), or if you're more comfortable in jeans that's fine too.
Currently we have two talks planned, if you want to get involved and speak about women in engineering, science and technology, please do get in touch.
The talks:
Gemma Cameron – How to get young people interested in Geekery!
Rachael Hoyle – winner of the Advanced Apprentice of Year Award. Rachael will be delivering an extremely interesting talk around the stigma of women in engineering. This will cover how ethics and equality are the dominant factors in employment, and whether this is damaging the industry, rather than encouraging diversity.
Links:
www.manchestergirlgeekdinners.co.uk
http://upcoming.yahoo.com/event/859931
http://www.facebook.com/event.php?eid=22778411401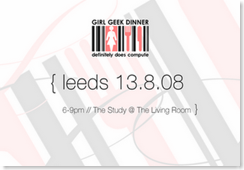 In addition to this great event, I was reading a post on the Girly Geekdom Blog which was advertising the first Girl Geek Dinner in the North East – well Leeds is almost the North East :p. More importantly the Dinner is being held on 13th August at The Study @ The Living Room on Greek Street, Leeds. Confirmed speakers include Lydia Machell, a Freelance Music Software Developer and Lorna Mitchell a Developer, Consultant and Trainer for iBuildings in Leeds. For more information and to register for this event please view the Blog post – http://girlygeekdom.blogspot.com/2008/07/girl-geeks-to-make-some-noise-in-north.html
It's great to see the Girl Geek Dinners this side of the M25 and I hope this is the first of many more events in both localities.