The Lenovo Ideapad U300S Ultrabook is one of the first of a new range of high end slim laptop's which are seen to be direct competitors and of the Apple MacBook Air.  The key features of this new form factor are that they are lightweight and have high battery life but all the while don't compromise on performance.  A wide range of manufacturers have released similar products but my only exposure to the form factor has been in the form of the Lenovo U300S.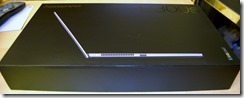 I was very lucky to win this Lenovo IdeaPad U300S Ultrabook through a competition run by Shortlist back in January, therefore my review is coming without my having to actually shoulder the cost of this luxury device.  I am however looking at options to replace my aging Dell Latitude D820, which has been an excellent machine for five years, so am aware of trends and the expected cost to replace my existing work horse.
The Lenovo IdeaPad U300S Ultrabook I am using has the following specification:
    Intel i7-2677M 1.8g-2.9ghz processor;
    Intel GMA HD 300 Graphics
    4 GB DDR3 RAM
    256GB SSD
    13.3" Ultra slim 16:9 HD Display (1366×768 resolution)
    Bluetooth; 802.11 b/g/n Wi-Fi, 1.3MP Webcam.
    1 x USB 2.0; 1 x USB 3.0; HDMI

There is an alternative configuration available and that comes with an i3 processor and a smaller 128GB SSD.  The whole unit is fashioned from one single piece of Aluminium.  The Lenovo IdeaPad U300S weighs a miniscule 2.9lbs and the dimensions are phenomenal with a thickness when closed of just 14.9mm!!  The full dimensions are 324x216x14.9mm, you can see a comparison between my swiss army knife and the ultra slim Lenovo IdeaPad U300S.
I ran the U300S with both Windows 7 Home Premium and the Windows 8 Consumer Preview, which is now my primary operating system, and I managed to get over 7 hours of battery life during general use which is absolutely fantastic from a high performance laptop like this.  Lenovo's technical specifications suggest that users should expect 8 hours of use from the machine in general use and I think it's almost correct dependent on use.  None of my use has been heavily processor intensive apart from occasionally building a large solution in Visual Studio.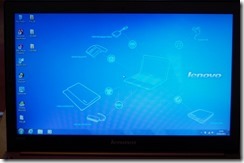 The resolution of the screen in this model is a lot lower than I am used to as my primary display runs at 1920×1200 on a 15.4" screen but the clear crisp resolution on the ultra slim panel is very usable and indeed caters for the majority of my needs, plus it's of a high enough standard for me to snap two metro apps side by side in Windows 8.  One criticism I have heard levelled at these type of displays is that in direct sunlight they are hard to read, I can neither confirm nor deny this as I have not had opportunity to test this out.
PConnectivity on Ultrabooks appears to be a premium and differentiator if the Lenovo Ideapad U300S is anything to go by as the machine only has 1 USB 2.0 port, 1 USB 3.0 port, a HDMI port and a combined microphone/headphones/headset socket.  I've found myself needing to use more than two USB ports so find myself adding a USB hub to my shopping list so I can always have the option to use more ports.  The lack of a dedicated VGA port is causing my concern at present as I have not been able to test the Ultrabook on multiple monitors, a HDMI to VGA cable is apparently available from Lenovo (according to the nice wallpaper that is on the desktop on first boot) however I am finding it extremely difficult to source, along with other accessories such as the Lenovo USB Hub which has a built in Ethernet port for making use of wired connections.  I don't have any USB 3.0 devices at present and so cannot comment on the usefulness of that port as I find myself using it as a standard port for now.
The trackpad is huge and supports some built in gestures from Lenovo, enabling a notes application for example.  In addition there is the introduction of a dedicated button for one-click restore which I made use of with my first use of Windows 7, this was surprisingly easy to use and a very quick way of restoring to factory settings.  The Lenovo IdeaPad U300S also has support for the Intel RapidBoot technology and the Ultrabook boots into windows in less than 10 seconds!!! which is fantastic and enables me to get to work straight away rather than waiting for a long time for my machine to be ready to use.  This is also the first Lenovo keyboard I have used but it's very easy to type on and I hear it follows the quality that Lenovo puts into their keyboards.
So generally a lot of positives in the review so far!  I haven't really commented on the processor. ram or SSD size, but I've found it to be a very powerful machine and night and day between it and my D820 which has a Core2 Duo with 4GB Ram.  I have to be honest in that 256GB SSD would be the minimum I would buy and I wouldn't even contemplate a machine with less than 4GB RAM.
So what is the Lenovo IdeaPad U300S missing I hear you ask?  Well I've read reviews where the reviewers have complained about lack of memory card slot.  This doesn't really bother me to be honest as I have a card reader which I carry in my bag and can be used on a variety of machines, I have had a fixed card reader on my netbook and found I never used it much as my main machine was my D820.  What I have come to notice is missing after a few weeks use, both at home and on the road, is a built in 3G modem.  Ultrabooks are designed to be powerful and lightweight, ideal for working on the move but the lack of 3G connectivity means I have to carry around a USB modem or Mi-Fi with me, not ideal.  Other manufacturers also provide the HDMI to VGA Cable in the box as standard and a I think this is a nice touch which Lenovo should also adopt as I've noted already that despite trying to source an adapter I've finding it very difficult and I have presentations to give this month!!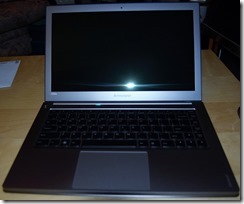 Finally I come to the cost of the Lenovo IdeaPad U300S.  As you'd expect with a beautiful, high performance competitor to the Apple MacBook Air, this isn't going to be cheap.The model I am very lick to have costs £1220.48 from Dabs and the i5 model costs in the region of £850 from the same retailer and a MacBook Air with a similar specification to the i5 model starts at £850.
So the final question comes down to whether or not I think the Lenovo IdeaPad U300S represents value for money?  To be honest I don't think I'm the target audience for this beautiful device.  In looking around for a new laptop I've not looked once at Ultrabooks other than to say they are beautiful devices but not my target.  When I buy a laptop I tend to think towards spending a large amount up front on a device which will last me five years.  My current thinking is towards a different Lenovo product, the ThinkPad W520 as it will give me a 1920×1080 screen and support up to 32GB of RAM which is really important when presenting on Web Farms and IIS share configuration as I need to be able to run many virtual environments, plus a machine like that will keep me going for years, my D820 has cost me about £300 per year over 5 years and I'm looking to spend around the same (or maybe a couple of hundred more) and get the same return.  Also a laptop like the Thinkpad W520 is expandable however the Lenovo Ideapad U300S is a solid piece of Aluminium with no replaceable parts so I wonder how I'll get on when the battery no longer charges or a part fails, also the maximum of 4GB Ram is a little limiting.
Overall I have to say the Lenovo IdeaPad U300S is a and fantastic looking and high performance machine but it's a little rich on the price tag for what it offers for me, I'd personally rather save the £1200 and put it towards a Lenovo ThinkPad but I have a specific use case for my machines.  If you want a high performance, beautiful, lightweight machine for general use and travel a lot I'd really recommend looking at the Lenovo IdeaPad U300S.