I've been keeping an eye on and experimenting with SignalR for about 18 months now when I get some free time and recently finished reading this book by Einar Ingebrigtsen and published by Packt Publishing. SignalR: Real-time Application Development is a very concise look at the key topics that you'd want to get up and running with SignalR.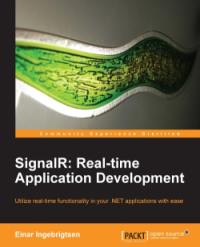 The book covers topics such as Security and Scalability along with some simple step by step tutorials to help start using SignalR in a variety of scenarios – straight forward web apps, console apps, WinRT applications amongst others. At just 124 pages long this book is not exhaustive and is a really useful start for someone who just wants to hit the ground running with SignalR fundamentals.
I found the book a really light read however personally I would have preferred a more detailed book with more discussion of the core technologies employed by SignalR and how they can be exploited to their full potential. Unfortunately this book focuses on the typical Hello World SignalR application of a chat application a lot of examples of which can be found freely on the internet.