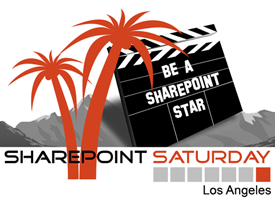 Are you ready to be a SharePoint STAR Los Angeles?
Join SharePoint architects, developers, and other professionals that work with Microsoft SharePoint for 'SharePoint Saturday', on Saturday, May 18, 2013 at Santa Monica College.
SharePoint Saturday is an educational, informative & lively event filled with sessions from respected SharePoint professionals & MVPs, covering a wide variety of SharePoint-orientated topics.
SharePoint Saturday is FREE, open to the public and is your local chance to immerse yourself in SharePoint! Meet accomplished technology leaders, network with your peers and increase your proficiency in SharePoint in a fun and free environment.
Event Details:
Breakfast, lunch and snacks will be served at the venue.
Wireless access will be provided so you can follow along with your mobile Twitter client.
Follow us now with hash tag #SPSLA
Get more information at SharePointSaturday.org/LA
Register today so your spot is saved!
Come down to Santa Monica, enjoy the beach and ocean breezes along with this wonderful campus and then join me for two new sessions on Self Service Business Intelligence in SharePoint 2013
Business Intelligence Demo Builds
Self-Service Business Intelligence in SharePoint 2013
Check out a few clips from SharePoint Saturday Los Angeles 2011, and the Santa Monica College Campus
Call for Speakers Open
#SPSLA Call for Speakers is now open! You can submit speaker information and session abstracts using our online form: http://sps.la/spkrform
Deadline for entries is April 19th. However, we will be making early announcements of speakers. The final list of speakers will be announced April 30th. One more note, we have some different tracks that most of you may not have seen before:
Business User: Includes end user and business executives.
IT Pro / Admin: Infrastructure architecture, operations, management and administration including PowerShell.
Developer & User Experience: Coded solutions, no code development, branding and end to end technical solutions.
Integrations: Includes a product, add-on, or service. Could include Microsoft products like Exchange but also vendor products and services.
Lightning Talks (15-20 min.): Held at a sponsor booth, you must list which Gold or Silver sponsor booth you'll be speaking. Attendee will have 25 mins between sessions.
Cheers,
-Ivan