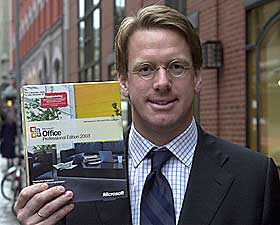 You may not have known Birger Steen. I first met him last year at WPC in New Orleans. We touched base a number of times through out the year as he adopted his role as the VP of SMB and Distribution at Microsoft.
At WPC this year Birger and I sat down for an hour and hashed out the challenges Microsoft faces in its strategies for addressing the SMB space. The most important challenge was complexity of acquiring a solution based on their products and the second was the need for Microsoft to build in profitability in its SMB offerings.
At Parallels, Birger will have an easier time creating the type of culture which respects the tenants of a good partner business. Simple and profitable.
In many ways I found Birger to be a sensible man capable of strong thought yet open to listen. Certainly his first input on my comments was to tow the Microsoft line. Eventually he understood that no business runs on negative profit and Microsoft's approach to the cloud and partners was just that a road map to negative profit.
Does Parallels present a strong position for SMB Consultants. Impressively, I can see a pretty strong positioning. I have not thoroughly analyzed the profitability of their offerings and as a result I won't speculate. What I see is an opportunity for Birger to leverage our conversation and drive a competitive offering for technology consultants in the SMB space.
Good luck Birger and keep in touch.
About Parallels: It is important to remember that Mac is about 9% of the US market and about 3% of the global market. Parallels made its name by bringing Windows to the Apple world through virtualization. They also bring a number of cloud management products to the market and that is why Birger refers to them as being well positioned in a cloud services world. Their products are easy to buy and easy to deploy.