New Year Update!
PowerPoint Game – Pointer's Way 3 is now available for download! It can be found in Fikree's Projects. Pointer's Way is a PowerPoint maze game where you will be using your mouse to move your way through the maze, avoid killer obstacles and unlock objects to reach your goal. Be prepared to scroll your way through 60 levels and encounter challenging boss stages!

You have seen real life characters and webcomic artworks drawn in PowerPoint. How about some Similes? Added PowerPoint Artwork – Smiley Collection which can be found in the Jerry's Projects.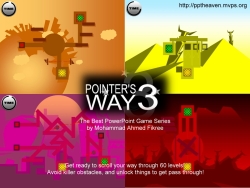 For more information, visit PowerPoint Heaven.